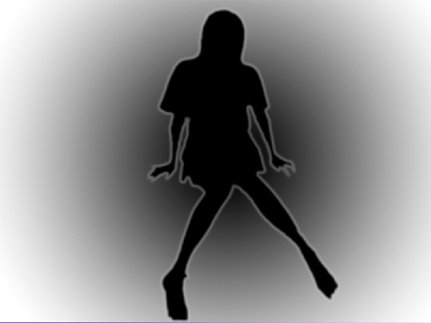 5) Using the gradient tool, create a black-to-white transition of your choice on this new alpha channel. Keep in mind that anything left black will be unaffected white will be a full effect, and grays will be somewhere in the midrange.
6) Deselect all, then with this channel still highlighted, click the "Load Channel as Selection"icon, which is thefirst one at the bottom of the palette...turn off the eyeball switches for the alpha channel and turn on the RGB channels, then go back into Layers mode and the original image.
7) The "marching ants" won't show your true selection (in the case of this radial grad, it appears to be a large circle), but you'll see the gradual effect when you apply a filter. In this example, I've applied a Filter>Blur>Radial Blur/Zoom, but this effect will work for virtually any filter, including brush strokes and textures.
You can see from the original how I added a few simple color tweaks to spice up this photo, but it's the gradual blur that really draws the viewer's focus into the intended subject.